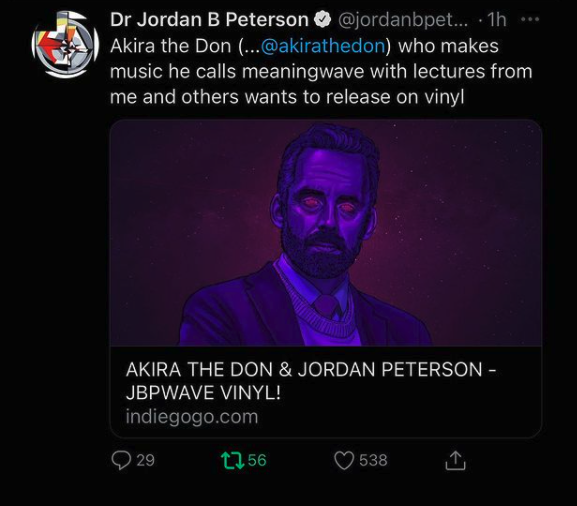 BLESSINGS GANG!
THANK YOU!
If you've been watching the streams, you'll have been aware of the epic glory and wonder that's been the first few days of this campaign.... We smashed our manufacturing goal in under 12 hours ensuring JBPWAVE VINYL IS DEFINITELY HAPPENING! We then set about our first set of stretch goals to MAKE IT BEAUTIFUL...
and we hit them all!
THANK YOU!!!!
That means...
The vinyl is colored! The vinyl is gatefold! The vinyl has a lyric book! And everyone who's backed the vinyl campaign is getting a BONUS 7" SINGLE of the VERY FIRST MEANINGWAVE SONG... Be a Plumber!
YES!!!
And!
We got the tweet of appoval from the good Dr himself!
THEREFORE!!!
NEXT PHAZE OF STRETCH GOALS IS UNLOCKED!
People ask me EVERY DAY if I can get the early JBPWAVE mixes on Spotify and other streaming platforms... So far we've taken JBPWAVE 1 and turned it into the acclaimed FATHER album (2019), and now we've taken JBPWAVE 2 and made the forthcoming AESTHETIC album (and people are already saying of the two tracks they've heard its their favourite Meaningwave yet...)
At that rate, if we do one a year, we'll get the beloved JBPWAVE 6 albumified by 2025.
WHO CAN WAIT THAT LONG?
So here's the idea. If we can hit the next series of stretch goals, we'll be able to employ an elite squad of world class musicians and mastering engineers to work with Akira around the clock to produce ALL THE JBPWAVES as FULL ALBUMS... just like FATHER and AESTHETIC... and get them ALL MADE AND RELEASED in 2021!
ALONGSIDE the already confirmed Meditations Vol 2, Jocko 2, and other epic Meaningwave albums that are on the way!
We did it with Alan Watts and the WATTSWAVE 2 / How To Be A Better Person album. And it was AMAZING!!! So let's do it with JBPWAVE... and GO ALL IN!!!!
 At the time of writing we're already at $23k! 
MEANWHILE... Captain Jack is working behind the scenes on some super sauce to add to the physical packages and make them EVEN MORE EPIC! Hold tight for updates on that!
THEREFORE!
Back the campaign today because you want EPIC VINYL and 4 more JBPWAVE albums in 2021!!!
THANK YOU EVERYONE WHO'S BACKED THIS CAMPAIGN ALREADY, and everyone who continues to share it!
A new music video from JBPWAVE: Aesthetic drops Friday!
And we dropped a new music video from the Masterpieces album, featuring Kamal Ravikant today, check that out here!
See you on the Meaning Stream at 7CT!
BLESSINGS!
AKIRA